The Lady of the Stream
Monday, June 30, 2008 Filed in:
rivers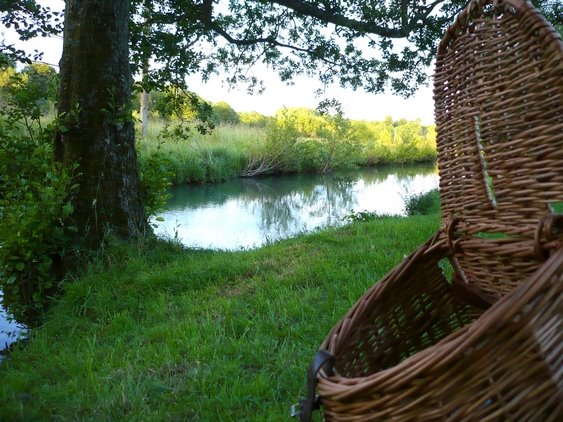 Back at the Windrush the following morning and my heart's just not in it. Too full of breakfast and news from home. Still, it's too pretty not to try so after Sean leaves for London I settle into the spot under the tree (useful as it looks like rain) and try rolling a worm under the nearside bank.
First cast I get a tiny brown trout. Third cast a tiny perch. Then it goes quiet until, after switching to red maggots, I catch a minnow. This is the second minnow I've caught on rod and line in a spot that teems with larger fish. I once caught one on the Stour in Dorset when it looked easier to catch a barbel.
Moving back up to the tree I try again red maggots and am rewarded with a fish I have never caught before. A small grayling of about 6oz. I'm so staggered that I make a mess of the photograph so instead, here's my creel, perched on the bank. And you'll just have to believe me about the grayling.
Rob Beattie is the other of several popular fishing books. He's also a regular contributor to Waterlog magazine.