On Golden Pond
Thursday, August 27, 2009 Filed in:
ponds
Now, I'm no great fan of 'tidying away' where people sort out Nature to make it more palatable and easier to handle, but variety is the spice of you-know-what, so I took it into my head to visit a small local pond which had been 'improved' by keen angling club members. And I have to say that they've done a great job.
It may have been because there was no-one else there - apart from a couple of swans and a few busy farm cats out on the prowl - but I found the sense of order to be rather a nice change from my previous two trips, hacking through 100 yards of nettles before I could even see the water. Here it was visible from the car park and I could walk to any swim in less than a minute. So I did. A small water encourages you to have a proper wander and for the first time I can remember I checked every swim before deciding where to set up.
It was the wrong choice of course. As usual I went for the prettiest swim rather than the most practical one and ended up fishing over weed so dense that nothing - the bait or the shot - stood a chance of reaching the bottom. The result was an over-shotted float and a bait that probably never went near a fish. If I'd had a rake on the other hand....
So I moved to the disabled swim nearest the car park because this seemed to have the most open water in front of the wooden stand. It was like fishing in Ireland again - all that space and comfort - and as it began to get dark, things started to happen. A splash here, a lily knocking there, a skinny ginger cat tearing past me. I fished under the fourth ring on the rod (i.e. closer than the rod tip) and caught this strange, beautiful fish that the photo doesn't do justice to - a sort of ornamental golden tench. Ten minutes later, when it was almost too dark to see I caught another. When I packed up I was back in the car in two minutes and home 20 minutes later. Easy.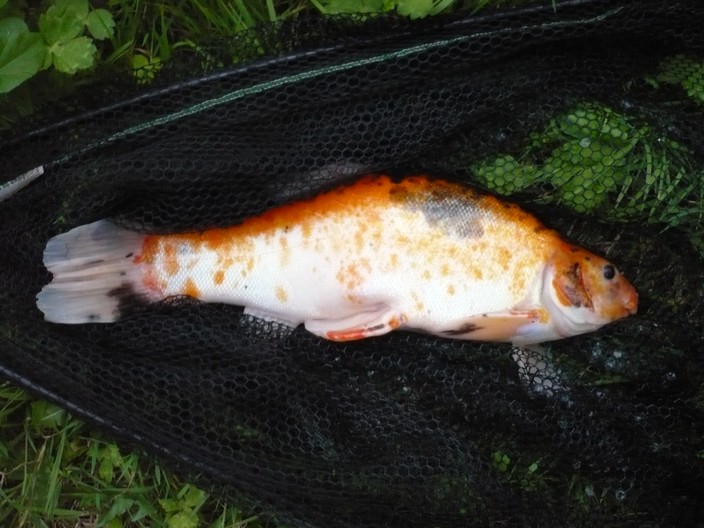 Rob Beattie is the other of several popular fishing books. He's also a regular contributor to Waterlog magazine.